Jiangsu Pengfei Group independently developed rotary kiln calcination system. In 2003, it was granted two patents for invention. In 2006, Pengfei Cement Rotary Kiln was awarded "China Building Material Machinery Industry Famous Brand", "Jiangsu Province Famous Brand". In 2007, it was awarded the title of "China Famous Brand". On this basis, Su Pengfei Group jointly developed with Southeast University and Yancheng Institute of Technology-Cement Kiln Disposal Industrial Waste and City Municipal garbage technology and equipment, including intelligent control system of large rotary kiln and research and development and comprehensive utilization of low-temperature waste heat power generation of rotary kiln, are undertaken by Southeast University; research and development of cyclone preheater for high efficiency and low resistance separation and incineration of domestic garbage by pre-decomposition furnace are undertaken by Yancheng Institute of Technology. This project is applied to energy-saving calcination of high energy-consuming cement industry, and utilizes biomass energy of waste incineration as auxiliary heat source, and collects and absorbs the effect of domestic waste, so as to realize circular economy. It is mainly used in the production of large dry cement with 5000 tons clinker per day. It can also be used in the energy-saving and consumption-reducing transformation of small and medium-sized cement calcination system.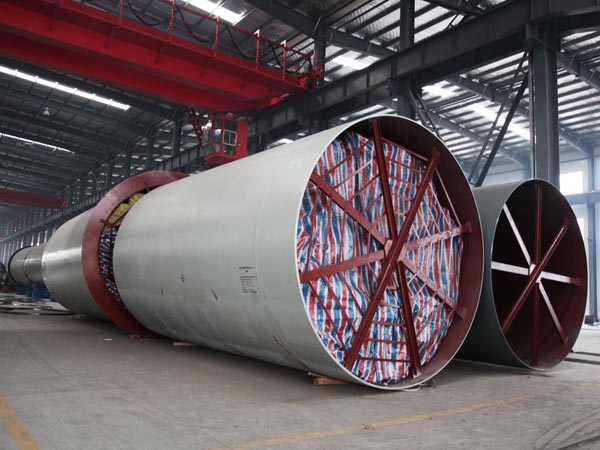 Rotary Klin Export
The main technological innovations of this project are:
The patent technology of double outlet cyclone separator was first applied to cyclone preheater to reduce resistance loss.
The experimental study of domestic waste incineration in rotary kiln with current technology is innovatively transferred to the pre-decomposition kiln outside the kiln to incinerate domestic waste. It can be applied to large-scale specifications, adjustable amount of waste, stable calcination quality of rotary kiln, elimination of pollution, utilization of waste heat source and Realization of circular economy.
It is the first time to use heat-resistant steel bars to connect the lining of kiln body with high thermal insulation performance in series to form integral thermal insulation layer, which can improve the stiffness of kiln body, reduce deformation and avoid brick dropping in red kiln.
In the periphery of the firing zone, the patent technology of annular heat exchanger is developed to recycle and utilize the radiation heat of the kiln body, reduce the heat loss of the firing zone and save the power consumption of the cooling fan in the periphery of the firing zone.
It is innovatively proposed that the computer intelligent control system should be used to optimize and integrate five major components of large rotary kiln calcination: cyclone preheater, precalciner, pulverized coal burner, rotary kiln and cooler.
Jiangsu Pengfei Group is a large national enterprise, a backbone enterprise of China's building materials machinery, a leading enterprise of China's cement machinery, a contract-abiding and trustworthy enterprise of Jiangsu Province, an AAA-level credit enterprise of Jiangsu Province, and a production and export base of 2500 tons and 5000 tons of new dry rotary kiln cement equipment produced by the Ministry of Foreign Trade and Economic Cooperation. It has the comprehensive strength to provide one-stop service of process design, equipment set, installation and commissioning for cement enterprises.
Jiangsu Pengfei Group has a strong mechanical processing strength, with a maximum rotary and hobbing diameter of 12m, an annealing furnace of 6.5m, a maximum indoor lifting capacity of 200 tons, an open-air lifting capacity of 150 tons, and a rotary kiln cement machinery production and processing capacity of less than 6m. China's famous brand "Pengfei" cement rotary kiln sales ranked second in the same industry in China. The enterprise has won many honorary titles such as China's leading cement machinery enterprises, China's top 20 building materials machinery and other honorary titles. The company is a comprehensive entity with building materials machinery as the leader, electronics, environmental protection, chemical machinery, new building materials as the development momentum, and has passed the ISO 9001 quality system certification. Its fist products, such as rotary kiln calcination system, high-efficiency ball mill, electrostatic precipitator, computer automatic control, pre-added water balling equipment, flour separator and other products, have passed the ministerial appraisal successively, and won the title of national patent, national Spark project, Jiangsu high-tech products and so on. They are well received by customers at home and abroad.
The company has its own R&D center and professional scientific and technological personnel. The annual R&D investment of the company is more than 4% of sales. Innovation studios have been set up to actively encourage R&D personnel to innovate independently, always aiming at the world's advanced level, continuously promoting technological transformation and innovation, insisting on self-innovation on the basis of introduction, digestion and absorption, and relying on scientific and technological progress to improve the core competitiveness of enterprises. After years of research, the company has formed a series of rotary kiln products with independent intellectual property rights, and has obtained 35 national patents. The product quality and performance have reached the international advanced level. In addition, we should strengthen the cooperation with China Material International Tianjin Academy, Nanjing Academy, Hefei Cement Research Institute, Southeast University, Yancheng Institute of Technology, Russian STROIPROEKT (Architecture) Survey and Design Research Institute and so on. Through digestion and absorption of imported technology, the company's independent innovation ability has been significantly enhanced. The cement complete sets with 5000 tons and 2500 tons per day have the ability of independent research, development and manufacture, and become a country. There are numerous large dry cement rotary kiln manufacturers.